On November 13, 2014, The Society for Human Resources Management (SHRM) of Greater Tucson's Celebrating Innovation in the Workplace Leadership Award Was Given to Sharon Lurtsema, Founder of Corporate CARE Solutions.
Sharon Lurtsema is the Founder and CEO of Corporate CARE Solutions. She began providing professional child and adult care services in 1992. After owning and operating a successful care agency for many years, Sharon set her sights on providing an exceptional level of corporate care on a broader scale and with the assistance of an amazing team, launched Corporate CARE Solutions.
As a former nanny, longtime care professional and business owner, Sharon believes taking care of and protecting the people you love is the most vital and important job there is. She has dedicated her career to helping families care for their loved ones. Her professional achievements have been recognized and honored by a multitude of organizations over the years.
She is passionate about helping working families resolve breakdowns in child and adult care as quickly and seamlessly as possible. "Employees don't have the opportunity to recharge their batteries when they utilize their sick and vacation time to care for family members. We come to you, alleviating the need to stay home by providing the compassionate care and undivided attention you would expect from a caring friend or family member. For working families trying to maintain a healthy work/life balance, this makes all the difference."
Sharon and her team began by introducing the Southwest to the corporate care benefit model and their unique "insider" perspective ignited the desire and opportunity to provide a much improved system to meet the growing demand for national corporate care services.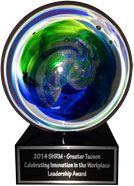 In 2015, the Women of Influence Awards – hosted by Inside Tucson Business – awarded Sharon Lurtsema, Founder of Corporate CARE Solutions, with a second place award for "Outstanding Entrepreneur."
This award was given to Sharon Lurtsema as a leader who knows how to adapt her organization to changing business and customer demands; including revolutionary change. Inspiring a culture of ownership that demonstrates accountability and encourages engagement, Sharon demonstrates courageous leadership to tackle individual and organizational goals in a challenging environment.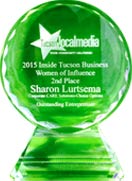 This award was presented to Sharon in recognition of being one of Southern Arizona's most influential female leaders making an impact on the community and the business world.